"Make This Year Different by Making It All the Same."
A new year's resolution.
Jesus knows he is speaking to a drowning man in A Course in Miracles. Every sentence is a lifeline. This one- "Make this year different by making all the same."- is given as a command. It might save us if we grab it, understand it, and do what it says.
The Course's new year's resolution comes at the end of Chapter 15, The Holy Instant, the holy instant being the time in which minds are joined in Christ's love without the body's interference. It is also the chapter in which Jesus speaks about "the season" (Christmas) of his birth, and how we should celebrate it by joining him in holiness. Why not? What have we got to lose?
There always seems to be some justification for the lack of love we feel- some exception we would rather cling to than grab the lifeline of forgiveness. I could feel love if it weren't for that situation, that person, that event, etc… we tell ourselves.
I recently attended a concert in which one of the songs was "I Will Do Anything for Love." It's a powerful thought, but the chorus went like this:
"I will do anything for love, but I won't do that THAT!"
Jesus' New Year's resolution requires that we look at all the "thats". They are the folks that we won't release to the Holy Spirit, but would prefer to use to imprison ourselves as bodies and them along with us. That will surely keep us from the love we say we would do anything for. That will surely keep us from our holiness.
Jesus introduces the resolution with this poignant recognition of our mutual imprisonment as bodies and our joint release in the holy instant in which there are no bodies. It goes like this:
"I give you (name of person) to the Holy Spirit as part of myself.
I know that you will be released, unless I want to use you to imprison myself.
In the name of my freedom I choose your release, because
I recognize that we will be released together."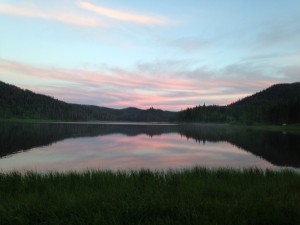 We either release or imprison. There is nothing in between. All our relationships could be made holy by giving them to the Holy Spirit who knows how to make of them something beautiful and fulfilling in contrast to the ego's use to hurt ourselves.
Image the the world in our minds if we were willing to not make any exceptions. What if everyone was seen the same- worthy of being released to love. It would indeed be a different world. This is what Jesus means when he says, "make this year different by making it all the same." He asks us to give all relationships, especially the ones we are using to victimize ourselves- to One Who can show us our shared reality of holiness instead.
"Make this year different by making it all the same. And let all your relationships be made holy for you. This is our will. Amen."
Happy New Year.
Lyn
---
---
Sunday, February 19th,  Course Seminar:
What do we do with: "Sex, Food, and Money"
1-3:30pm @RMMC