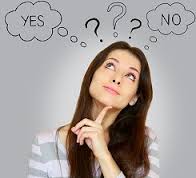 From ACIM Chapter 30:
RULES FOR DECISION
1. Upon waking think about the kind of day you want. The outlook starts with this: "Today I will make no decision by myself."
2. Throughout the day reflect upon the kind of day you want and say, "If I make no decisions by myself, this is the day that will be given me. "
These two procedures, practiced well, will serve to let you be directed without fear, for opposition will not first arise and then become a problem in itself.
3. When you have judged already (be certain this has happened if you feel yourself unwilling to sit by and ask to have the answer given to you), you need a quick restorative before you ask again. Therefore say, "I have no question, I forgot what to decide." Try to observe this rule without delay, despite your opposition.
4. If you are so unwilling to receive you cannot even let your question go, you can begin to change your mind with this: "At least I can decide I do not like what I feel now."

5. Continue with: "And so I hope I have been wrong." This works against the sense of opposition.
6. You are not coerced, but merely hope to get a thing you want. And so you say in perfect honesty, "I want another way to look at this."
7. The final step is but acknowledgement of lack of opposition to be helped. It is a statement of an open mind, not certain yet, but willing to be shown: "Perhaps there is another way to look at this. What can I lose by asking?"

It must be clear that it is easier to have a happy day if you prevent unhappiness from entering at all. But this takes practice in the rules that will protect you from the ravages of fear.