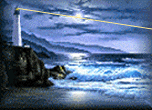 Next One: Jan. 21st, 2018
Every Three Months, on a Sunday, 1- 3pm @ RMMC.
The group meets four times a year at RMMC on a Sunday afternoon from 1- 3pm. Upcoming dates and selected newsletter will be announced, or you can contact Chris Dixon. (kevlene@q.com).
There will be study and discussion of one of Ken Wapnick's past Lighthouse newsletters published by Foundation for A Course In Miracles (FACIM). 
Recommended for Ongoing Course Students
$7 suggested donation for class.   
The Lighthouse Newsletter to be covered will be announ

ced a few weeks before class. 

We suggest reading the Lighthouse article ahead of time, making notes to share about it, and numbering the paragraphs in each section of the newsletter for easy reference. 

 Facilitated by Chris Dixon
---
The Lighthouse Group studies and meets quarterly at RMMC to talk about a selected newsletter written by
---
Hello Everyone – Merry Christmas and Happy New Year!
Our first discussion of the Lighthouse this year is scheduled with the RMMC for Sunday, January 21st.  We will meet there from 1P-3P to discuss the newsletter entitled:  "Jesus: The Hope in Hopelessness" Volume 9, Number 4, from December 1998.  It is on page 404 of the Lighthouse Anthology and the link on the computer can be found through facim.org/online-learning-aids/lighthouse-…  You'll need to scroll down to 1998 to find it.
This newsletter contrasts the historical Jesus with the Jesus of our course. It has references to the Gifts of God and offers us wonderful insights from Freud.  
As usual, I will send another reminder about 10 days before our meeting.  Meantime please be sure to put us on your calendar.   Happy reading and studying.
Blessings,  Chris