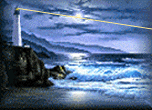 Every Three Months, on a Sunday, 1- 3pm @ RMMC.
The group meets four times a year at RMMC on a Sunday afternoon at 1- 3pm. Upcoming dates and selected newsletter will be announced, or you can contact Chris Dixon. (kevlene@q.com).
There will be study and discussion of one of Ken Wapnick's past Lighthouse newsletters published by Foundation for A Course In Miracles (FACIM). 
Recommended for Ongoing Course Students
$7 suggested donation for class.   
The Lighthouse Newsletter to be covered will be announced a few weeks before class. 

We suggest reading the Lighthouse article ahead of time, making notes to share about it, and numbering the paragraphs in each section of the newsletter for easy reference. 

 Facilitated by Chris Dixon
Hi Everyone,  Since I (Chris) will be out of town most of June, my early reminder about our 3rd quarterly newsletter discussion comes even earlier!!!
Francis at the RMMC is holding July 30th from 1P-3P for our discussion of the September 1997 Newsletter:  "Strangers in a Strange World," Volume 8, Number 3.  I googled its title "Strangers in a Strange World – Ken Wapnick" and it came right up.  (Hopefully there's no need for a link this time.)  It is also in the Anthology publication on page 307.  You should have no trouble getting this one but let me know before June 13th so I can be of help.
I will reconfirm with my usual last reminder about 10 days before our meeting.  If you have questions, please direct them to me by e-mail – also before June 13th.
To avoid a scheduling conflict, do put us on your calendar.  Meantime, enjoy the newsletter.  Blessings to all,  Chris
---