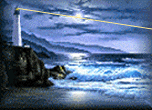 Every Three Months, on a Sunday, 1- 3pm @ RMMC.
The group meets four times a year at RMMC on a Sunday afternoon at 1- 3pm. Upcoming dates and selected newsletter will be announced, or you can contact Chris Dixon. (kevlene@q.com).
There will be study and discussion of one of Ken Wapnick's past Lighthouse newsletters published by Foundation for A Course In Miracles (FACIM). 
Open to all. $7 suggested donation for class.   
The lighthouse newsletter to be covered will be announced a few weeks before class. 

We suggest reading the Lighthouse article ahead of time, making notes to share about it, and numbering the paragraphs in each section of the newsletter for easy reference. 
 Facilitated by Chris Dixon
---
The Lighthouse Group studies and meets quarterly at RMMC to talk about a selected newsletter written by Dr. Kenneth Wapnick. This quarter's topic is "Do no Harm to Anyone"  (Volume 9, Number 3, September 1998.) Within this article are some wonderful questions for self examination in determining how the guilt-attack cycle has pervaded our relationships. This article is meant to help us understand what it means not to harm anyone. The article was written by both Gloria Wapnick and Ken Wapnick.
The article is also found on page 346 of From The Lighthouse: To Look Upon Darkness Through Light Must Dispel It, an anthology of Lighthouse articles by Kenneth Wapnick, Ph.D. and Gloria Wapnick from the Foundation for A Course in Miracles.
Sunday, April 30, 2017, 1:00 PM – 3:00 PM